A pinch and punch for the first of the month, happy June guys! And on that note...
since when does the year go January, April, June anyway?!?
Long time no see is a helluvan-understatement if ever I heard one... so
hey, how are y'all doing and what has everyone been up to? I'm guessing nothing as jaw-droppingly thrilling, mind-bogglingly enthralling nor outrightly outrageous as how I've spent my May (which would be, urm, binge eating, job-searching + watching reruns of "Desperate Housewives", before you rush to judgement...).
BUT summer's
finally
here and I [hope I] am
back with a bang; I've a line up of all posts
fun, funny
and
funky... but let's talk Friday nights first.
It's been a long week, you've had a bad day and you're hungry enough to eat the moulding cheese knocking around your fridge drawer (you're too tired to throw it out, of course). Delivery times are ludicrous and let's be honest, you don't want to risk ordering from the local Chinese, lest you strangle somebody down the phone. Alas, ever had THAT Friday feeling?!
Solution:(ignore fancy looking vegetables please, these are from lunch earlier in the day):
1. Split slightly stale breakfast muffins in half. N.B. pittas, tortillas and two-day-old-really-chewy-baguettes also do the trick. Just keep it mini.
2. Cover with tomato puree, a small sprinkle of sugar (balances the sourness) and toppings of your choice (which can just be a slice of cheese - preferably not a moulding one though - if you're feeling that worse for wear) and flash under a hot grill for 5 mins MAXIMUM.
3. Voila. Slump, switch on tele and watch weeks worth of Desperate Housewives/Big Bang Theory/Everybody Loves Raymond reruns.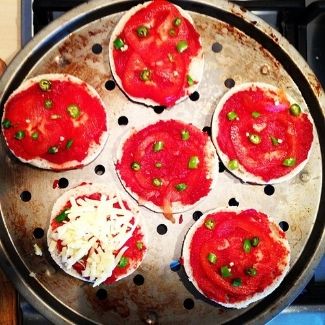 SL x