Yes, so we've established - I can't say no to a slice of chocolate cake. Like, ever (, as the
previous post
will testify). But don't you find that you too crave the foods that you haven't yet mastered yourself? Take a macaroni cheese, for example, or a vanilla cheesecake. I can take it or leave it 'cause I know I can probably make it better at home. I think this theory explains my irrational longings for cannelloni too - if it's there I have to have it.
You see, I still seek the key to that perfect moist, light, yet rich (and highly elusive) chocolate sponge. So I resort to tasting every slice that's ever put before my nose, just to see if it hits the mark.
Victoria sponge
, on the other hand, well, that'is something I think I've finally cracked; it comes out just as good each and every time. It's just as well really because the bf and I are fiends. Even better that it's sooooooo simple to create that I can
even
leave him to it in the kitchen. Win-win? I think so.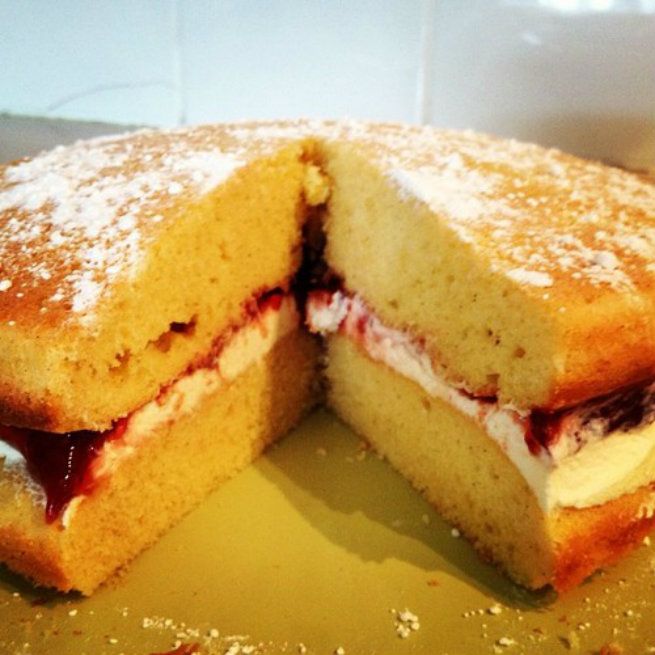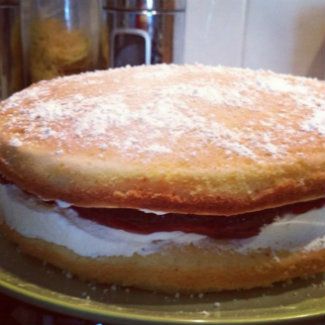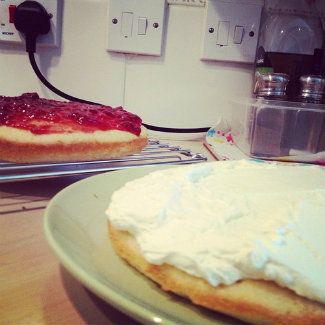 What You Need:
225 g softened unsalted
butter
To Decorate:
What To Do:
1.

Pre-heat the oven to 180C/gas 4. Grease and line two 20cm sandwich tins.
2.

Combine the butter and sugar in a large bowl and beat it hard with a wooden spoon or an electric mixer until pale and fluffy, like whipped cream.
3.

Break the eggs into small bowl and add the vanilla extract. Beat the mixture lightly with a fork.
4.

With the mixer running on full speed add the egg very gradually to the butter/sugar mixture. It's important to do this slowly and gradually, to stop the mixture curdling. Once all the eggs are in, fold in the flour with a spatula or large spoon. The mixture should now be of a dropping consistency, so add a drop of water if it's too thick.
5.

With a spatula or large spoon scoop half the mixture into each of the two sandwich tins. Transfer to the centre of the oven and bake for 20-30 minutes until well risen and golden brown. To check they are cooked, slide a sharp knife blade into the centre of the sponge - the knife should come out clean.
6.

Remove from the oven and leave the cakes in the tins to cool for a couple of minutes. Turn out onto a cooling rack and leave to cool completely before decorating.
7.

Once the cakes are completely cool, spread the jam onto one half and the whipped cream onto the other. Sandwich them together and dust the top with caster sugar.
I advise chilling this in the fridge and enjoying it cold with a hot, hot cup of tea. :D Happy Friday everybody