*can spaghetti really be anything else?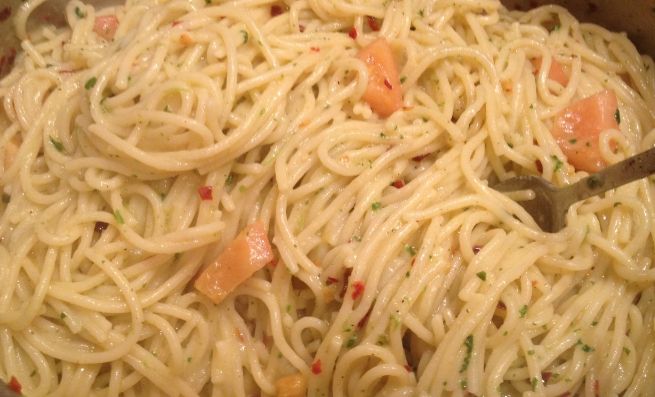 Quick cooking without any compromise on the resulting flavour is probably every busy cook's dream. And all done in one pot too? Even better. I pinched this garlic spaghetti recipe from my mum, who, I can testify with absolute certainty
never
consults cookery books or shows. Nah. Sure Italy must have a million and one versions of garlicky herby spaghetti already but... seeing as mum drew inspiration from none of these, I hereby proclaim this recipe as authentic of the Ramanuj family.
I'm not a huge fan of the bottled sauce bonanza if I'm honest - feels a bit like turning up to an exam with half the paper completed already; cheating. But the best thing about this sauce is its simplicity, and the fact that you'll recover most ingredients from your store cupboard anyway. And it allows for much adaptation - use up any mingy vegetables knocking about your fridge or add in left over meat - do what you will.
The last time I made this my friend said that it was the "best spaghetti" he'd ever had. Now, I am going to assume the kid's never been to Italy... but I am also going to dismiss the assumption because that praise is too good to let go ;) Try it out and let me know how you get on.
What you need:
(serves 4)
400g spaghetti
1 tbsp vegetable oil
1 tbsp butter
2 tsp chili flakes
1 tsp asafoetida (optional)
2 tbsp garlic - puree, frozen or fresh
2 chopped tomatoes
salt, as per taste
2 tbsp lemon juice
a squeeze of honey
freshly chopped spinach
150ml double cream
What to do:
1. Cook the spaghetti as per instructions on the packet. Meanwhile chop your spinach and tomatoes.
2. Drain the spaghetti and in the same pot, heat the oil and butter, add the asafoetida, chili flakes, garlic and chopped tomatoes. Fry on low to medium heat for 2 minutes (don't be tempted to turn the heat up, burnt chili and garlic smell acrid. taste even worse.) If you are adding onions or peppers, you will need to sweat these until they soften.
3. Add in the spaghetti and fork through ensuring all strands are coated in the garlic mix. Add the salt, lemon juice and honey, stirring before adding in the double cream.
4. If the sauce appears too thick add a splash of hot water. Cover and leave to bubble for a couple of minutes, or until everything is warmed through.
5. Garnish with the spinach, fork through once more and turn off the heat.
6. Serve in obscenely large bowls (with a side of steamed and sauteed greens and garlic bread, if you're entertaining and feeling posh) and enjoy!
xx