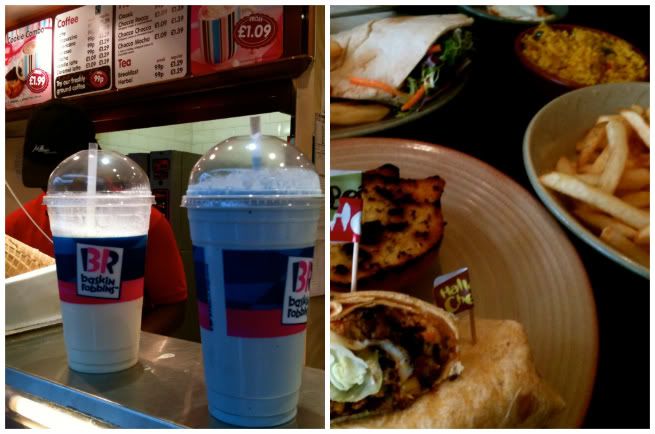 Despite my mighty annoyance come Saturday morning when I woke up at 5.21am on my DAY OFF, in all, I had a pretty perfect weekend (no, not a cue to reach for the sick bucket). I'm glad to hear that today's the last of this October heatwave madness though (let's face it, who can STAND being trapped indoors when it's 27 degrees outside?) and now we can revert to normality. Which will be raincoats and ever encroaching Christmas campaigns at the start of October thank you very much, not cool cocktails in pretty pub gardens.
The point of my post today though is not to boast. Nor to gloat. And neither to rant. I'm happy - you GET the point. Nope, today, I'm here to talk food. Now, if any of you lovely readers ever happen to have asked me anything of my favourite cuisine (naively expecting a one-word answer, alas), you'll know that I tend to find my self in a bit of a pickle. Ounce for ounce, I find it heard to believe that food can get any better than the creamy, luscious whole-hearted rounded-ness of a well cooked Spinach and Ricotta Cannelloni. Risotto, Penne Arrabiata and Calzone are pretty close contenders for my "last meal on earth" crown too - in fact, I'd probably ask for them all (I mean I'm going to die anyway, so may as well die eating?) Yummy yum. I feel guilty admitting this, but I'd probably give up a curry for a cannelloni any day. Why guilty, I hear you ask. I mean it's not like I'm
committed
to Indian food or anything. Ah well, it's not just "Indian food" as you put it. It's 21 years of my mother's lovingly home-cooked food, vegetables spiced and tempered in ways taught to my mum by my grand mum, and to my grand mum by my great grand mum. It's family history at its absolute best, an amalgamation of culture and comfort, a very potent delineation of our ancestry, so how can I not feel guilty when I say I prefer Italian food? And so in this predicament of mine, my innate resolution is obviously not to choose one over the other (oh god no!), but to find a way to integrate the two. "One day I'll have my own restaurant, Italian food with an Indian twist" were my exact words I think. And so, imagine my surprise (and disdain, someone had already stolen my business idea!) when a lovely someone whisked me off on Saturday to Blue Zenzer, Northwick Park. Located overlooking luscious, rolling green golf courses, it's safe to say that I was sold even before I set eyes on the menu. Then came the menu. As I fought back tears of both joy and confusion (where to start, what to eat?!) I revelled in the ingenious selection of Indian-Italian fusion dishes that stared me back. Paneer in a Creamy Red Pesto Sauce, Pizza Margherita Picante (just when I thought a Margherita couldn't get any better) and Spicy Mogo (cassava) in Pomodoro Sauce. Who'd have thought?
Topped off with a Melting Orange and Chocolate Pudding and THEN a large Cotton Candy Milkshake from Baskin Robbin's? Whoever said the way to man's heart is through his stomach said it all wrong. Because that's the way to a woman's.
Please visit Blue Zenzer, Playgolf Northwick Park, 280 Watford Road, London, HA1 3TZ