As it turns out, plans to hit Brighton yesterday, the single nicest day of the year so far, pretty much went to pot. Sort of overslept by a good two hours you see. Hmmm. Spirits all but dashed, we were about to give in to despondency and spend the day moping when a light-bulb moment struck. With eyes and ears all over the place (trust me, I have my sources) I'd heard nothing but praise for the Ideal Home Show in Earl's Court. Gadgets, Girly Bits and Good Grub? What's not to like? Armed with an Oyster, an iPhone and (a very lovely) Boyfriend, off I trudged through the tube to spend the day meandering up and down (very, very crowded) aisles flogged with stalls displaying any and every home and lifestyle improvement idea conceivable. As this deserves a post in its own right, I'm going to let the exhibition lie for now and tell you instead about dinner. Food first, as always.
I'd been eyeing up Masala Zone for a while - probably since I'd wandered past their Covent Garden restaurant and seen, to my delight, several hundred Rajasthani rag dolls suspended from the ceiling - so spotting the restaurant as we wandered away from the exhibition was a rather pleasant surprise (especially as I'd planned a birthday meal there last week but failed to deliver - yes, again!). Noted as one of the most popular Indian restaurants around London, it sets itself apart by way of an authentic menu (none of this chicken tikka masala business) coupled with efficient, informed service (very often lacking at Indian food joints) and a visually unique experience. They serve up everything from mouth-watering street-food (tangy savouries eaten at street-side stalls, probably the main form of eating out for the Indian urban populace) to a full-on traditional three course thali - the way Indian families eat at home.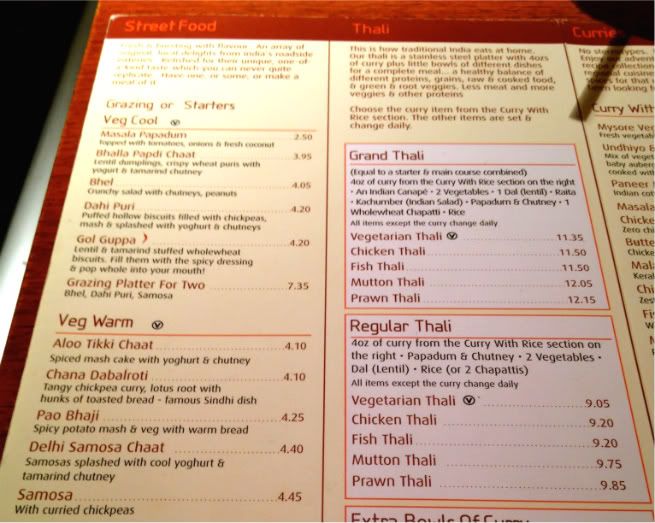 Total masala fiends, we opted for two of the street food style starters and a main of Masala Chili Paneer; tasty, spicy, tangy and an all-round taste-bud-tingling experience. The service surpassed expectation and even better, there was plenty to look at whilst we waited on our food (Masala Zone Earls Court showcases canvases by a female tribal artist from East India). Definitely the place to begin if you're searching for the real nosh.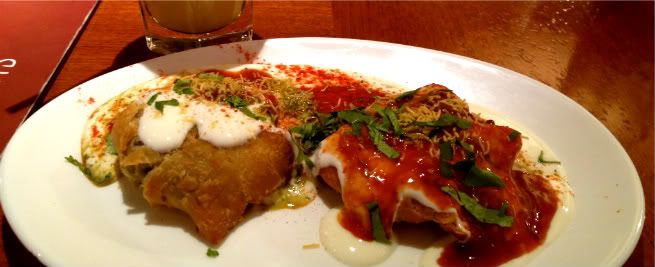 xxx
Masala Zone Earls Court, 147 Earls Court Road, London, SW5 9RQ