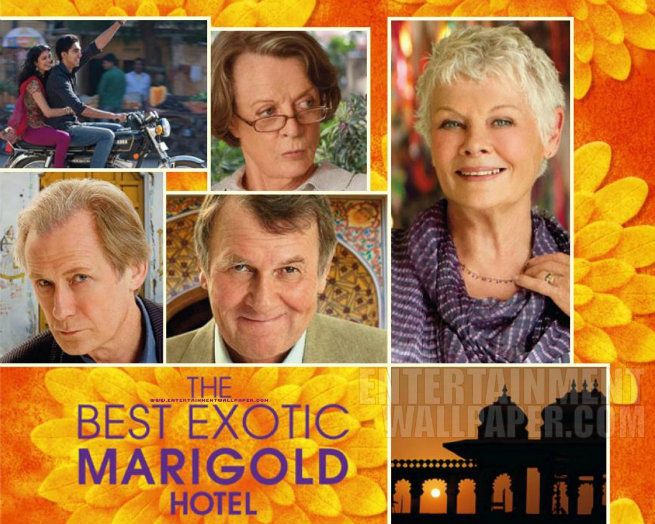 I finally watched

'The Best Exotic Marigold Hotel'

on Sunday. With the parents of course because its setting in India warrants it one of the few Hollywood movies they
actually
wanted
to watch. If you're an Indian, you'll know
exactly
what I mean (your parents watched 'Slumdog Millionaire' and 'Bend It Like Beckham' rather religiously too, didn't they?) And so as soon as mum realised that this one had arrived in the 'Movies on Demand' section of the V+ box, many-a-day of badgering ensued (I wasn't overly keen, dad can rarely be bothered) until we finally relented and gave it a chance.
For good reason too because, and I say this with all the honesty I can muster, I do rather regret not catching it in cinema. The hustle, the bustle, the chaos and the colour that is India - the "assault on the senses" - is so much better captured on the big screen.
The Best Exotic Marigold Hotel
tells the story of a group of English retirees summoned to live in the faded glory of an old hotel in India. It brings together great acting talents like Maggie Smith, Tom Wilkinson, Judi Dench and Bill Nighy. When they are all assembled, each in their various stages of ageing — Smith pinched, Wilkinson haggard and Dench plump — there is anticipation that these combined forces of British acting superpower will create history. But the feat of these Dames and gents is much greater. They transcend the traces of cutesy yuck and turn this senior citizen version of
Love Actually
into a charming celebration of ageing. There are brutal truths about the declining years in
Best Exotic
,
from loneliness to financial woes, but they are amply padded with comedy and cheery messages about acceptance. Beautiful.
It's a quietly great (Great) British film. Please watch it.