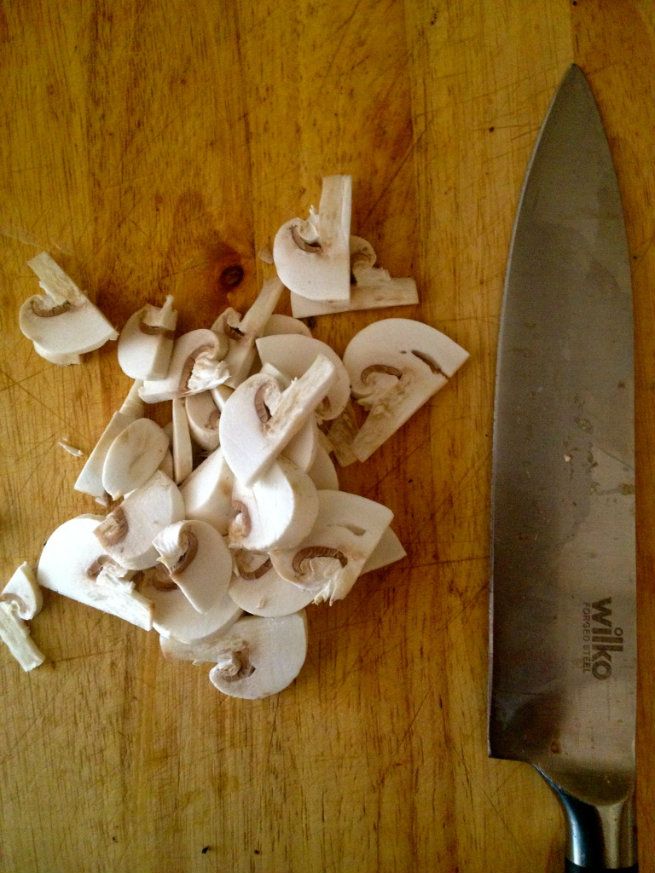 Brunch

, in my opinion, is the ultimate weekend indulgence (alongside Sunday morning papers and tea in bed of course). The very word conjures up imagery of laid-back-ness and of leisurely eating, of time to prepare something more… satisfying than the usually rushed weekday breakfast of toast or cereal. The thing is, though, is that we're a family of early risers. 8am maximum-ers. Yup, even on a Sunday (much to the boyfriend's annoyance, I assure you). And so it usually happens that by the time 11am rolls around, we're ready for something more substantial, more...well, lunch-y than egg & hash brown seeing as we've been banging around for more than three hours already. What better then, than a one-pot-trick, a golden creamy aromatic mushroom risotto which permeates your every last taste bud? Yummmmmmy.
For ultimate

brunch-time bliss

, you will need -
50g
Butter
1 slosh
Olive Oil (technical term, I assure you)
1
Onion, finely chopped
400g
Arborio Rice
1.2 l
Vegetable Stock (2 Oxo cubes dissolved in the same amount of water does it just fine)
300-400g
Mushrooms, chopped - Chestnut work a treat here
5

Cherry Tomatoes
100 ml

double cream
1 Handful

Freshly Chopped Parsley or
Coriander
Salt & Pepper (& chili flakes, entirely optional)

to taste
(serves 6) (yes, I know there are only 3 in my house. But lunches for the next day you see.)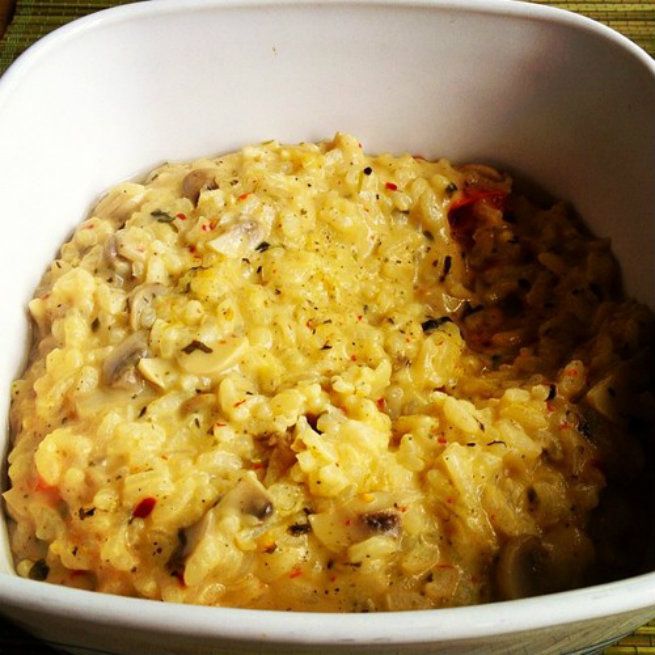 What to Do -
1. Put the butter and olive oil in a large pot and place over low-medium flame. Don't heat the pot first and then add the butter 'cause butter burns fast. And smells acrid when it happens. Avoid. When the butter's melted but not bubbling, add onion and cook on low heat until slightly translucent and wonderfully caramelised. (N.B. the desired effect is mellow sweetness, not intense flavour).
2. Add the rice and stir until coated in the melted butter, then begin adding the vegetable stock, 300 ml at a time. It's important to stir at least every minute or so, and don't be tempted to add all the stock at once.
3. Once you've added the last of the stock, add in the mushrooms and top up with 200-300ml of freshly boiled water. Add seasoning and leave to simmer until mushrooms and rice have cooked to a luscious amalgamation and all the liquid has been absorbed.
4. Add tomatoes and double cream and leave to bubble away for a while longer.
5. Plate up, top with chopped parsley, serve with crusty, buttery bread and munch away - preferably al fresco if it's as sunny as today! Bon Appetit.
xxx