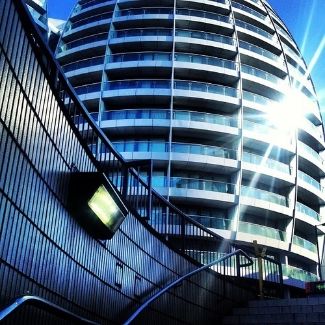 Seeing as the sun finally showed it's smiley face for pretty much the first time this year (yes, if you don't live in England, it is April but we still seem to be in the midst of an ice age), what better than a summery Spanish frittata to make the sunshine seem just that little bit warmer - I found sweet red peppers, red hot chilli flakes and golden fluffy potatoes did just the trick. Yum yum!
Now, if you're much of a tapas-tempt

é

, you've probably savoured at least one

tortilla-liplickingly-delicious-
española
in your time. That is the wonderfully dense concoction

made by frying potatoes + onions, adding beaten egg and cooking to a thick omelette that's later sliced into squares and served as a

snack.
And so, b
eing the type-A control geek that I am (need answers to everything right away)
I couldn't help but wonder if the frittata-tortilla enigma is merely a classic 'tomay-to/tomah-to' case.
Alas - t
he bane of my breakfasts - w
hat is the
real
difference?
I did end up having to google around for a plausible answer but much to my dismay,
I'm still not clear on the perceived differences between frittatas and tortillas. Some sites suggested differences in traditional serving temperatures whilst others theorised on potential variation in cooking techniques; "flipping" vs. "flashing"(the skillet under the oven, GOD what were you thinking?!)
- who knows?
No sweat as fortunately,
"a
rose by any other name would smell as sweet
" ;) So here it is, another great morning pick-me-up with hangover-killing potential as potent as

my Mexican Scramble

.
What you need: (measures are per person)
- 2 eggs
- 150g fluffy potatoes (Maris Piper, Yukon, King Edward - good spuds are key!), peeled and sliced to 1/2 cm discs
- 1/4 pepper oven roasted or ready-grilled from the jar
- 1/2 onion, roughly chopped
- salt, pepper, chilli flakes & fresh parsley to taste
- 30g grated Manchego cheese
- 2 tbsp olive oil
To Serve:
- flour tortillas
- any extras you fancy - baked beans, roast tomatoes, sauteed mushroom, avocado salsa etc... options 2 + 4 are advisable.
What to Do:
1. Begin by boiling the potatoes in slightly salted water until they reach the al-dente phase (hold their shape but tender to the bite).
2. Drain the potatoes & heat the olive oil on medium heat in a heavy-based pan.
You want a pan that's relatively deep as you're not after making a
cr
ê
pe style omelette.
Add the onions and

sauté

gently trying not to brown them - we want sweet, semi-translucent caramelliness (mmmmm, hungry just thinking of it!)
4. Meanwhile, beat the eggs in a bowl, seasoning to taste. Add 1/2 the parsley and cheese, beating well into mix. Preheat your grill to approximately 200 degrees C.
5. Add the peppers and then the potatoes to the pan. Be careful not to be too vicious stirring lest the potatoes crumble! Pour over the egg mix and, having reduced the heat slightly, allow to cook through for 7-10 minutes.
6. When the bottom and sides look well set but the top-middle is wobbly-bobbly, extinguish the heat + sprinkle over remaining cheese, parsley and a spritz of fresh black pepper before transferring to the grill.
7. Be sure to watch carefully here - I'd say it'll take no longer than a few measly minutes for the frittata to puff up in all its golden glory. Careful pulling it out of the oven too, the handle will be hot (DUH).

8. Slice into lusciously thick wedges, serve as you may, with all the condiments you please but certainly as quickly as you can.
Enjoy!
xo